GRAY GHOST NDT HEADPHONES
Couldn't load pickup availability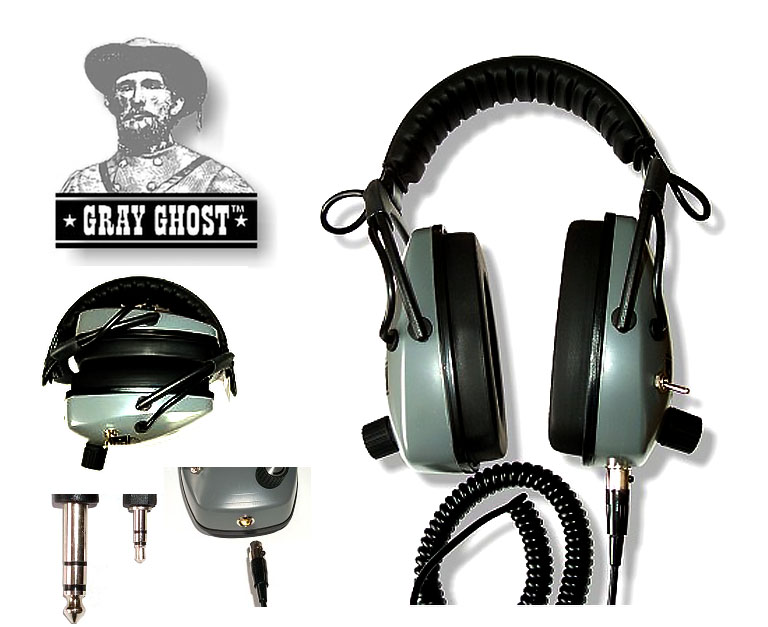 Gray Ghost® NDT

Built upon the solid foundation of the Famous Original Gray Ghost, NDT Means"No Down Time!"
Does this sound familiar… A month of research and you've just hiked two miles into the forest after pinpointing an old cellar hole on a map. You can only afford one set of quality headphones. As you setup your detector and power on, you hear nothing! Suddenly you remember the tree branch that caught and yanked your headphone cord really hard. Luckily you packed mini-phones, but they have an 1/8″ plug and you lost the adaptor! Now you'll have to settle for using the loudspeaker to hear the deepest old coins, jewelry and relics… That is if your detector has a built-in speaker!
If this has happened to you, you already know the value of having a good backup. Our universal GRAY GHOST® NDT headphones are based on the strong features of our already famous Gray Ghost Originals. For the NDT, we have engineered a very rugged detachable cord with a high-quality connector system and we give you TWO complete cords! You can have your choice of cords with two 1/4″ plugs or two 1/8″ plugs… Or you can have one of each size.
So next time you plan on a serious day of metal detecting, don't take chances, bring the GRAY GHOST® NDT.
Technical Specifications:
High-quality locking connector system
Gray Ghost High-Quality Locking Connector
Dual rotary volume control with "stay put" segmented "click" positioning.
Selector switch for metal detector compatibility with all single-output metal detectors without adapters.
Heavy-duty muff-to-muff connection cable.
Heavy-duty coil cable with your choice of two 1/4″ or two 1/8″ stereo connectors, or one of each size
Gray Ghost NDT Cable Plug Choices
Compact carry and storage foldable design.
Gray Ghost NDT Compact Fold and Carry
Heavy-duty polymer muffs with full-ear surround, soft comfortable cushions.
Adjustable padded headband… no screws, no wire frame, no rust!
Speakers designed for maximum sensitivity, efficiency, durability, and signal quality.
Special sound-blocking muff design eliminating environmental ambient noise up to 24 decibels.
Impedance: 150 ohms nominal