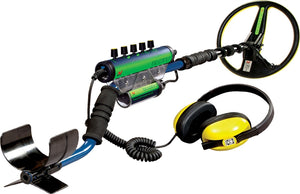 Minelab Excalibur II
Price Includes Headphones (Waterproof, hard wired), NiMH rechargeable battery & Charger, Coil cover & free UK delivery.
Minelab Exclibur II fitted with 10" Search coil
The unique design of the Excalibur II means this amphibious detector has all the features you need and can be used just as effectively in or out of the water. Whether you love combing the beach or deep sea diving the Excalibur II is a must have.
Minelab's unique BBS (Broard Band Spectrum) technology, combined with superior ground rejecting technology, makes the Excalibur II the ideal underwater machine. The unique design of the Minelab Excalibur II allows you to use it as effectively in or out of the water - this amphibious machine can move seamlessly from land, beach and wet sand conditions to underwater depths of up to 200ft (66m).

Thanks to a unique method of ground cancelling never again will you get false signals from detecting in salt water. Enjoy the simple yet effective discrimination and be surprised at the sensitivity and depth you uncover targets from.

Whether you are a long time diver or a casual beachcomber the Excalibur II is unbeatable for working the beach, wading in the shallows or diving a wreck at 200 feet for treasures.
Features
BBS techonolgy with 17 individual frequencies operating automatically at the same time.
Super-tough, high tech, open web 10
Can be used effectively in or out of water.
Two operation modes - all metal and discriminate.
Automatic ground tracking.
NiCad battery system
---