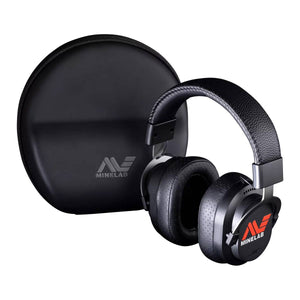 Minelab ML105 Wireless Headphones
Wireless Headphones specifically for the latest generation of wireless ready metal detectors from Minelab. The stock headphones that ship with the Minelab Manticore. Full over-ear comfortable headphones, supplied with a case and charge lead. These headphones should pair quickly and easily with with compatible Minelab Metal Detectors, giving clear, low latency audio.
They may also be wired directly via the auxiliary cable and 3.5mm jack.
Compatible With
Equinox 700
Equinox 900
Manticore
X-Terra Pro
Note: These are not compatible with Minelab Equinox 600/800, or other Bluetooth detectors. Instead use ML-80 or ML-100 Bluetooth headphones.
---