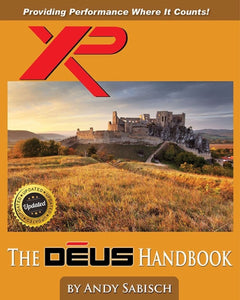 The XP Deus Handbook
XP Metal Detectors, headed by Alain Loubert and supported by his talented team, has forged the solid reputation of a company that produces high quality, cutting edge metal detection equipment thatconsistently finds what other detectors have missed under a wide range of conditions worldwide!
Some of the topics covered include:
Learn what each control or features does and how to adjust them for any condition you might come across and for virtually any application
Proven tips and techniques provided by veteran detectorists for various types of hunting
Accessories that can improve your success, protect your equipment and maximize the performance of your Deus
Innovative ways to use the Deus in shallow water to find gold jewellery, old coins and relics
Boost your detector's performance with the right adjustment.
Whether you already own a Deus or are still contemplating the purchase of one, you will find this book to be an invaluable source of information based upon actual, in-field experience. Even if you have been using the Dues for years, just one or two new ideas or tips gleaned from the pages of this book can give you an edge over the competition, re-opening sites considered "worked out" and letting you to find what others have missed!
---