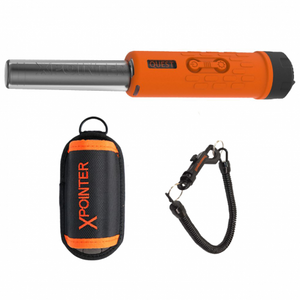 Quest XPointer II Pinpointer
Quest XPointer II Pinpointer
The Quest XPointer II impresses as a resistant pinpointer that accompanies dives up to a depth of 5 meters waterproof. It has an integrated battery and offers multiple detection signals such as audio, vibration, and audio & vibration. In addition, the LED illumination provides the best visibility. Choose from 4 sensitivity levels. The Contents of delivery includes a convenient belt holster, 2 rubber protection caps, an anti-loss cable, a charging cable, and a 2-year warranty.
Design
With its innovative and high-quality design, the XPointer II sets itself apart from other pin pointers. A non-slip grip provides comfortable handling, while the easy-to-press buttons are always within thumb reach. Discover the difference in ease of use and functionality of the XPointer II.
Waterproof
With impressive water resistance to a depth of 5 meters, the XPointer II is the ideal companion both above and below water. Whether you're diving or in a sudden downpour, this pinpointer will hold up. After your day of searching, simply rinse the XPointer II under the tap and it's ready for the next use.
Built-in speaker
The XPointer II features a powerful speaker in the battery cover that gives you clear, crisp sound comparable to a full-size metal detector. If needed, you can remove the battery cover and use the built-in 3.5mm jack to plug in headphones and continue your search discreetly.
Built-in rechargeable battery
Of course, the XPointer II comes with a built-in rechargeable battery to give you maximum power. With an impressive 1000 mAh battery, you can count on long-lasting use. The battery can be conveniently charged via a USB-C cable to ensure you're always ready to go.
Settings and display
It also offers three different detection modes: sound only, vibration only, and sound & vibration simultaneously. You can choose the sensitivity you want in four adjustable levels and turn the LED light on or off as needed. Customize your metal detection experience with the XPointer II.
Retune function
Thanks to the XPointer II's Retune function, you can optimize the Ground balance on mineralized Grounds and make the detection field more precise. Effectively and precisely to the find!
Pinpoint locating
With the XPointer II, you can effortlessly locate even the smallest metal objects quickly and accurately. Simply calibrate it at the touch of a button and let its precise tone or vibration guide you to the find.
Experience the ultimate search experience! Order the XPointer II today and discover hidden treasures.
Contents of delivery:
Quest XPointer 2
Holster
2x rubber caps
Spiral cable /loss prevention
USB charging cable
---