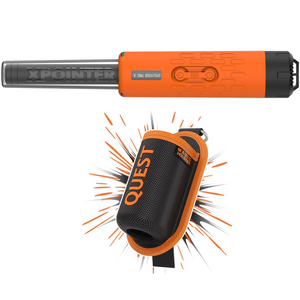 Quest XPointer Max Pinpointer with Magic Holster
by the new Magic Holster. Thanks to the Magic Holster, constantly switching the pinpointer on and off during the search is a thing of the past. As soon as the XPointer is switched on, it automatically switches to standby mode as soon as it is placed in the Magic Holster. When pulled out of the holster, it immediately becomes active again. This feature saves significant time and greatly improves the search experience.
Design
The XPointer Max stands out from other pin pointers with its innovative and high-quality design. It features a non-slip grip that fits comfortably in the hand, as well as two easy-to-use buttons that are always within reach of the thumb. In addition, it has a transparent search tip and a small, illuminated display indicator. On the display, you can conveniently see what settings you are currently making and whether the object found is iron or valuable metal.
Waterproof
It is fully waterproof to an impressive depth of 5 meters. This feature allows you to use the pinpointer underwater without any problems. Even a sudden rain shower will not be a problem. After a successful day of searching, you can easily rinse the XPointer Max under the tap to clean it.
Built-in speaker
Inside the battery cover of the device is a speaker that gives you clear sound quality, comparable to that of a full-size metal detector. When you remove the battery cover, you'll see that the speaker is connected to a 3.5mm jack, which gives you the option to plug in headphones and enjoy the sound in a more personal way.
Built-in battery
A must-have feature is a built-in battery, which of course is not missing from the XPointer Max. With a powerful 1000 mAh battery, you can enjoy the maximum performance of the pinpointer. The battery can be conveniently charged via a USB cable, giving you a practical and flexible charging option.
Settings and Display
It has three detection modes:
Sound Only, Vibration Only, and Sound and Vibration Simultaneously.
In addition, the sensitivity can be adjusted in four levels and the searchlight can be turned on or off as needed. All of these settings are clearly readable on the backlit display, so you'll have no more guesswork in the dark. With the XPointer Max, you have full control over its functionality at all times.
Discrimination
XPointer Max discriminates ferrous from non-ferrous metals using tones, LEDs and a visual indicator.
Retune function
The Retune function enables a Ground balance on heavily mineralized Grounds and facilitates narrowing the detection field to quickly get closer to the object.
Contents of delivery:
Quest XPointer Max Pinpointer
Magic Holster
2x protective rubber caps
USB charging cable
Spiral cable / loss prevention
Instruction manual
---