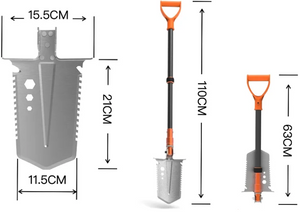 QUEST SPADE
Foldable: Fold and pack into your daily backpack for the next adventure.
Lightweight: Lightweight and tough as a monster. No compromise.
Multi-function: It's a spade, a hoe, a cutter, and even... a beer opener.
Features
Full Length: 110cm (43.30")
Folded Length: 63cm (24.8")
Spade Head: Length: 21cm (8.26") Width: 15.5cm (6.10") at the top which tapers to 11.5cm (4.52")
Weight: 2lbs. 4oz.
---