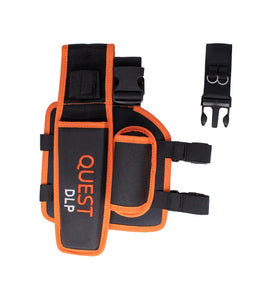 Quest Drop Leg Pouch & Holster For Pinpointer Detector And Knife
Quest Drop Leg Pouch & Holster for Pinpointer Detector and Knife 1505.101
Quest Drop Leg Pouch with Holster.
The Drop Leg Bag and Holster is the solution for keeping your Pinpointer within reach at all times!
Made of Heavy Duty Durable Cordura and Heavy Duty Stitching. Drainage grommets in the bottom of the pouch.
Durable design that keeps the probe within reach.
Compatible
Garrett ProPointer Pinpointer
Garrett ProPointer AT Pinpointer
Minelab ProFind 15 20 35 4p Pinpointers
Quest Pinpointer X-Pointer Land
White's Bullseye TRX Pinpointer
Nokta pointer 
Xp mi4 / mi6
Nokta pulsdive pointer
*Diamond Digger and PinPointer are NOT included
---