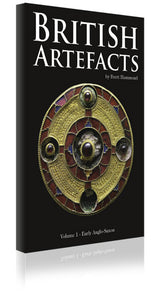 British Artefacts Vol 1 - Early Anglo-Saxon by Brett Hammond
British Artefacts Volume 1 - Early Anglo-Saxon by Brett Hammond
The early Anglo-Saxon period is of immense importance to the later history of Britain. It saw the changeover from British-speaking provinces dominated by Roman power and culture to English-speaking kingdoms interacting within a European network of kings, nobles and chiefs. The two centuries from AD 400 onwards in lowland Britain were witness to huge changes in social structure, settlement pattern, political ideology, language and religion. In this important new book, Brett Hammond has drawn together images, distribution maps and descriptions of some important pieces of jewellery, wargear and feasting equipment from the period alongside representative examples of objects which were in daily use. The book covers a vast range of object types – from the rare and the exotic to the everyday – offering a thorough coverage of the fascinating material which survives from this period.
In addition to the outline history, the book features detailed descriptions of many important new finds which shed light into the gloomier corners of the period: the links between the Roman, Anglo-Saxon and Scandinavian worlds.
British Artefacts is an ideal reference work for detectorists, archaeologists, museum staff, collectors and anyone with a serious interest in the early Anglo-Saxon years.
The book contains 20 maps showing the distribution throughout Britain of various classes of objects and has over 230 beautiful illustrations.
The contents show the breadth of coverage of the title: Intro to the Series, Glossary, Intro to the Early Anglo-Saxon Period, Advice for Collectors, Valuations, Runes, Advice for Finders, Outline of the Early Anglo-Saxon Period, Art styles, Artefacts production & distribution, Ceramic production and Metal Artefacts. The "Metal Artefacts" covered include: Brooches, Buckles & Belt Fittings, Clasps, Weapons & Fittings, Bowls & Vessels, Pendants, Belt Rings, Bracelets & Arm-rings, Chatelaines, Latch-lifters & Girdle-Hangers, Keys, Combs, Earrings, Finger-rings, Harness & Bridle Mounts, Neck-rings, Padlocks, Pins, Purse Mounts & Fire-steels, Pyxides, Spoons, Spurs, Tags, Metallic Threads, Toilet Sets, Tools and Weaving Equipment.
The Non-Metallic Artefacts include Amber, Antler, Bone, Ceramics, Gemstones, Glassware, Horn, Ivory and Stone.
---