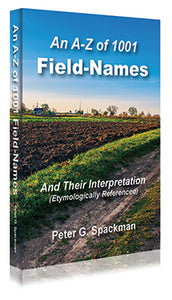 An A-Z of 1001 Field Names and Their Interpretation - by Peter Spackman
The more knowledge we have about the land we detect the better our chances of making significant finds – research is a powerful tool and this book will prove invaluable to anyone who is serious about metal detecting.

What is a field-name, how did it obtain its name, when was it named, has the name changed over the centuries and what does it mean? These are some of the fundamental questions which this book will help to answer, giving an insight into past lives, land management and usage.

This fascinating book explores the roots of field names, many of which contain hidden meanings referring to long-lost practices involving myths, legends, and customs.Historians, archaeologists, metal detectorists, fieldwalkers and anyone interested in the social history of the United Kingdom will find this book a fascinating read.

This book offers a new and exciting dictionary style format. The author has drawn on a wide range of literature covering: archaeology, biology, entomology, etymology, genealogy, geology, history, mathematics, mineralogy, mythology, sociology, technology, and flora and fauna, to name but a few subjects.
---