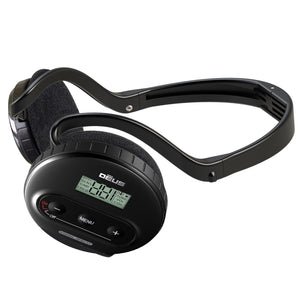 XP WS4 cordless backphones
THE XP WS4 wireless backphones, fully weatherproof, foldable, compact and lightweight.
The XP WS4 headphones can be use In the absence of the remote control, the WS4 alone can operate the DEUS thanks to its built in controls, and without any power loss. Also the headset control has the advantage to be disconnected from the backphone.
XP WS4 wireless backphones features
- Wireless
- Built in operational controls
- Foldable and ergonomic
- Weatherproof
- Lithium powered with long battery life: 27 Hours
- Fast charge USB protocol: 2 hours
- Indicates the battery level of headphone and coil
- Target ID
- Coil change
- Discrimination
- Sensitivity
- Ground Balance
- 4 Multi-tones + pitch
- 4 Frequency (4 kHz, 8 kHz, 12 kHz, 18 kHz )
- 9 Factory programs
- Volume control
---